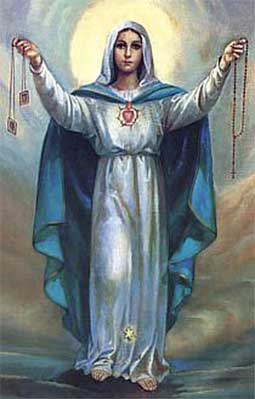 OUR LADY'S PROMISE
'One Day through the Rosary and Scapular I will save the world. '
Blessed Virgin Mary to Saint Dominic: 'Wear your Scapular Always!' It is worn by those consecrated to Our Lady.
"Work so that She may be loved and served by you and by the world."   (Pope Pius XII)
Kiss the Scapular frequently; it is a sign of respect for Our Lady.
Has Our Lady Herself reminded us of the Scapular devotion?
Yes. At the moment of the great miracle of Fatima, She appeared in the garb of our Lady of Mount Carmel, reaching down towards the crowd Her centuries-old sign of affiliation, the Brown Scapular.She wants us to live the true consecration to Her, which the Scapular means, to make our lives truly worthy of Her so that Her promise of eternal salvation may be fulfilled for each one of us.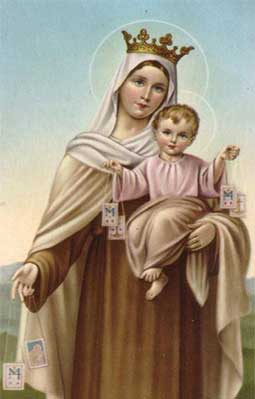 Does enrolment in the Scapular have to be done by a Carmelite priest?
At one time enrolment in the Scapular had to be done by a Carmelite priest or by one holding the required faculties.
Now all priests, religious or diocesan, may confer the Scapular provided they are approved for hearing Confession.
Brown Scapulars Ireland supply the Brown Scapular worldwide including free  postage .